Why Workflow Foundation 4.0?
We've noticed a surge in traffic on our several of our team's posts..  It's said that the best way to truly know sometime is to teach. We figured we'll start a series on building related matter…so what's today's topic? Building a Workflow Foundation 4.0 Host Application.
The main reason to use it is, well there's a lot of reasons.  In fact, there are so many it'd be kind of dumb to really go through them. But we'll give a pragmatic one… If you use SharePoint, Dynamics CRM 2011, Biztalk, Sql Server Integration Services, Microsoft Speech Server or just need all the goodness that comes with building workflows, Workflow Foundation is going to be a big part of your life.  You can do things manually, over and over again, or you can automate them with Workflow.  The Out of the Box Experience is powerful enough but quite limited in many of the specific applications, so building your own Workflow Host, you can let end users do things they otherwise couldn't with the application.
Workflow Host WPF Application
So let's get started.  We have to give full credit for the inspiration and getting me started to Bruce Bukovics and his wonderful book Pro WF: Workflow Foundation in .NET 4.0 (Expert Voice in .NET)  from APress.  But without further ado…
 create a new Empty Solution in Visual Studio 2010.
Add a WPF Application Project to the solution.
Add References to the System.Activities, System.Activities.Core.Presentation and System.Activities.Presentation, Microsoft.Xrm.Sdk, Microsoft.Xrm.Sdk.Workflow assemblies.
Open the MainWindow.xaml file and add the following code to it
<

Window

 

x:Class

="EvilDevilCuckoo.DesignerHost.MainWindow"


        

xmlns

="http://schemas.microsoft.com/winfx/2006/xaml/presentation"


        

xmlns:x

="http://schemas.microsoft.com/winfx/2006/xaml"


        

Title

="EvilDevilCuckoo Workflow Designer"

 

Height

="600"

 

Width

="800"


        

Closing

="Window_Closing"

>


    

<

Grid

>


        

<

Grid.ColumnDefinitions

>


            

<

ColumnDefinition

 

Width

="2*"

/>


            

<

ColumnDefinition

 

Width

="5*"

/>


            

<

ColumnDefinition

 

Width

="2*"

/>


        

</

Grid.ColumnDefinitions

>


        

<

Grid.RowDefinitions

>


            

<

RowDefinition

 

Height

="25"

/>


            

<

RowDefinition

/>


            

<

RowDefinition

 

Height

="75"

/>


        

</

Grid.RowDefinitions

>


        

<

Menu

 

Width

="Auto"

 

Grid

.

Row

="0"

>


            

<

MenuItem

 

Header

="File"

 

Name

="menuFile"

>


                

<

MenuItem

 

Header

="New"

 

Name

="menuNew"

 

Click

="menuNew_Click"

 

/>


                

<

MenuItem

 

Header

="Open..."

 

Name

="menuOpen"

 

Click

="menuOpen_Click"

/>


                

<

MenuItem

 

Header

="Save"

 

Name

="menuSave"

 

Click

="menuSave_Click"

/>


                

<

MenuItem

 

Header

="Save As..."

 

Name

="menuSaveAs"

 

Click

="menuSaveAs_Click"

/>


                

<

Separator

/>


                

<

MenuItem

 

Header

="Add Reference..."

 

Name

="menuAddReference"

 

Click

="menuAddReference_Click"

/>


                

<

Separator

/>


                

<

MenuItem

 

Header

="Run..."

 

Name

="menuRun"

 

Click

="menuRun_Click"

/>


                

<

Separator

/>


                

<

MenuItem

 

Header

="Exit"

 

Name

="menuExit"

 

Click

="menuExit_Click"

/>


            

</

MenuItem

>


            

<

MenuItem

 

Header

="CRM"

 

Name

="menuCrm"

>


                

<

MenuItem

 

Header

="Configuration"

 

Name

="menuConfiguration"

 

Click

="menuConfiguration_Click"

>


                    

<

MenuItem.Icon

>


                        

<

Image

 

Source

="/EvilDevilCuckoo.DesignerHost;component/Images/XAML_file.ico"

 

/>


                    

</

MenuItem.Icon

>


                

</

MenuItem

>


            

</

MenuItem

>


        

</

Menu

>


        

<

Border

 

Name

="toolBoxArea"

 

Grid

.

Column

="0"

 

Grid

.

Row

="1"

 

Margin

="2"

 

BorderThickness

="1"

 

BorderBrush

="Gray"

/>


        

<

GridSplitter

 

Grid

.

Column

="0"

 

Grid

.

Row

="1"

 

Width

="5"

 

ResizeDirection

="Columns"

 

HorizontalAlignment

="Right"


                      

VerticalAlignment

="Stretch"

 

Background

="LightGray"

/>


        

<

Border

 

Name

="designerArea"

 

Grid

.

Column

="1"

 

Grid

.

Row

="1"

 

Margin

="2"

 

BorderThickness

="1"

 

BorderBrush

="Gray"

/>


        

<

Border

 

Name

="propertiesArea"

 

Grid

.

Column

="2"

 

Grid

.

Row

="1"

 

Margin

="2"

 

BorderThickness

="1"

 

BorderBrush

="Gray"

/>


        

<

GridSplitter

 

Grid

.

Column

="2"

 

Grid

.

Row

="1"

 

Width

="5"

 

ResizeDirection

="Columns"

 

HorizontalAlignment

="Left"


                      

VerticalAlignment

="Stretch"

 

Background

="LightGray"

/>


        

<

ListBox

 

Name

="messageListBox"

 

Grid

.

Column

="0"

 

Grid

.

Row

="2"

 

Grid

.

ColumnSpan

="3"

 

SelectionMode

="Single"

/>



    

</

Grid

>




</

Window

>
At that point, you should have something that roughly resembles the image below: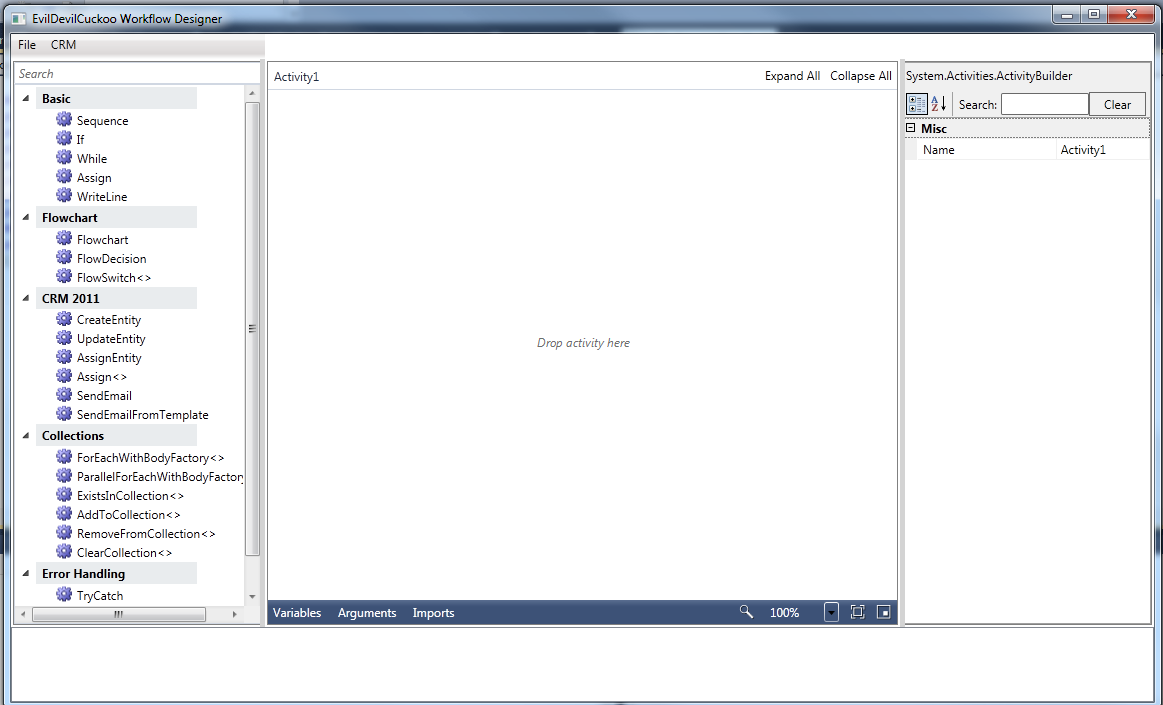 ————————————————————–
KeyWords: Workflow Foundation 4.0,  CrmConnection, Microsoft.Xrm.Client.CrmConnection, MSCRM, CrmConnection Class,  Microsoft.Xrm.Sdk.Entity,Microsoft Dynamics CRM 2011, Crm 2011, Dynamics CRM 2011,  CrmConnection.Parse,  Crm 2011 CrmConnection, MSCRM 2011 Workflow, Microsoft.Xrm.Client.dll, Microsoft.Xrm.Sdk.dll, System.Activities, System.Activities.Core.Presentation and System.Activities.Presentation, Microsoft.Xrm.Sdk, Microsoft.Xrm.Sdk.Workflow, Bruce Bukovics, Pro WF: Workflow Foundation in .NET 4.0 (Expert Voice in .NET) , Dynamics4, Dynamis4.com